These chewy and simple Gingerbread Bars are an extra easy and extra delicious treat, perfect for Christmas and other holiday celebrations!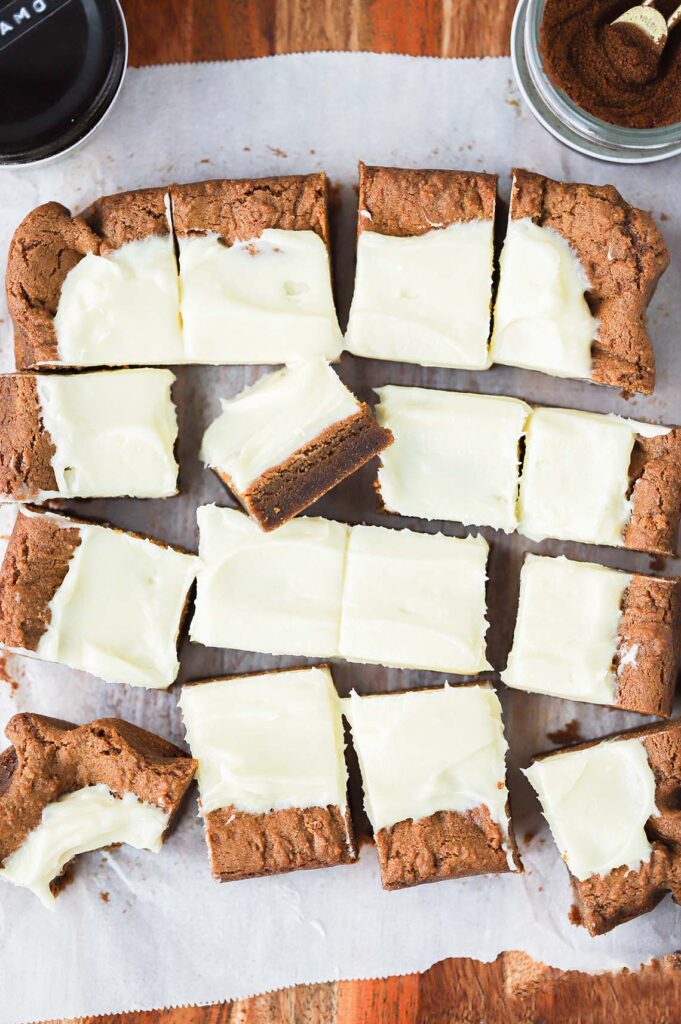 Spicy Gingerbread Bars Perfect for Christmas
Christmas is knocking at the front door, and if you're needing an extra easy and extra delicious treat, these Gingerbread Bars are just what you need. They're perfect for everyone on your treat list: teachers, friends, neighbors, or even the mailman! Everyone is sure to love the warmth and chewiness of the gingerbread combined with the creamy and tangy cream cheese frosting.
A Delicious Combination of Spices
A handful of pantry staples come together to create this gingerbread masterpiece. While some gingerbread can be overpowering, we've tested and tried the spices to perfection. Here are particular spices you'll need:
Cinnamon – Brings in warmth and ties all the spices together in harmony.
Cloves – Definitely one of our favorite spices, but be careful not to overdo it. A little goes a long way!
Nutmeg – Brings in a hint of sweetness and nuttiness.
Ginger – Well, these are called GINGERbread bars for a reason! This is also a strong spice, so don't be tempted to add more than what is called for. We triple promise it's the right amount!
Molasses – Not a spice, but still delicious and important!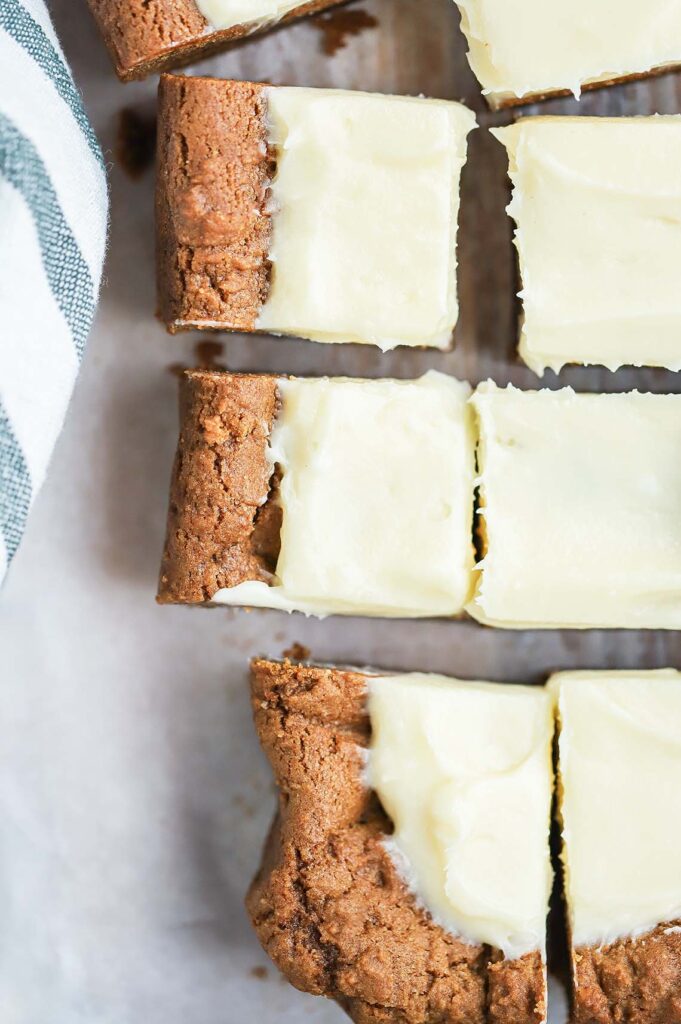 How to Make Gingerbread Bars
Making your gingerbread bars is pretty straightforward, but let's walk you through the process! Here we go…
Make the Cookie Dough Base
The very first thing you need to do is make the dough. You'll want to cream the butter, brown sugar, and sugar together. Cream them until they're light and fluffy. Then mix in the egg, vanilla, and molasses. You'll want to whip this for 1-2 minutes. Watch for the mixture to start changing colors. When it turns a light brown color, you can stop! Finally, mix in your spices, and then your dry ingredients. Once everything is mixed in and your dough has formed, you're ready to add it to the pan!
Press into Pan and Bake
Line a jelly roll pan or an 8×8 pan with aluminum foil or parchment paper and spray with non-stick spray. This will ensure that your bars don't stick to anything! Add the dough to the pan and press down firmly. If you want a cookie edge like we did, press the dough up the sides of the pan too. Heat your oven to 325°. If you're using a jelly roll pan, bake for 20-22 minutes, and if you're using an 8×8 pan (like we did), bake for 25-27 minutes. Be sure to cool completely before adding the frosting!
Make Cream Cheese Frosting
Cream cheese frosting always pairs well with gingerbread. There's just something about that combo that will make you swoon, and making cream cheese frosting isn't difficult at all.
While the bars are in the oven baking, simply mix together the softened butter, softened cream cheese, powdered sugar, and vanilla. Frost the gingerbread bars when they are completely cooled down.
Other Frosting Options
While cream cheese frosting is our first choice, there are other options you can most certainly choose from. Here are some we suggest:
Cinnamon frosting – Use our regular buttercream frosting recipe, but add in 1/2 to 1 tsp of cinnamon.
Orange frosting – This might sound weird, but it works! Grate some orange zest into the frosting, and instead of using heavy cream, use 2-3 TBSP of fresh orange juice.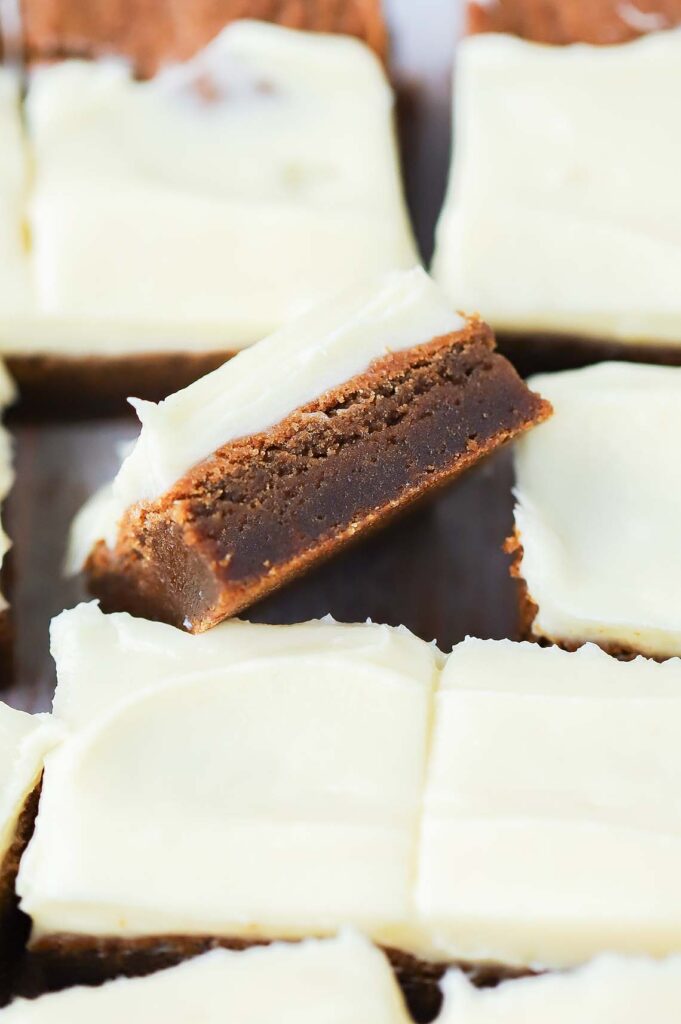 How to Store Gingerbread Bars
Store leftover gingerbread bars in an airtight container and refrigerate for up to a week.
Can I Freeze Gingerbread Bars?
You can freeze baked but unfrosted gingerbread bars in an airtight container for up to 3 months. We don't recommend freezing cream cheese frosting. It doesn't thaw well. When ready to eat, just pull the gingerbread bars out from the freezer, bring to room temperature, and frost!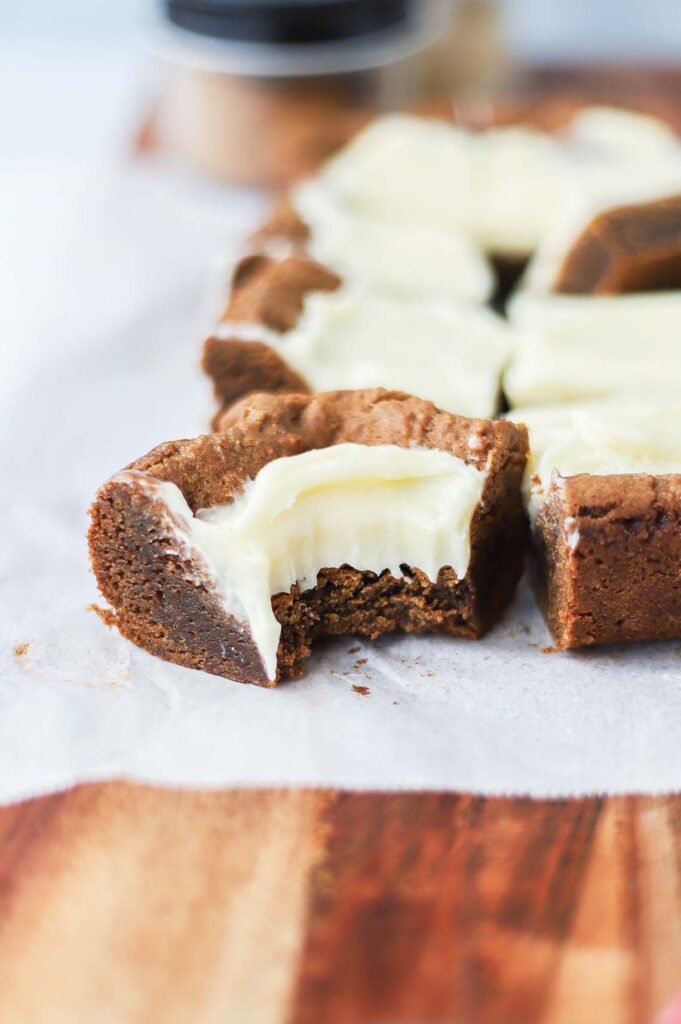 Other Treats for the Holidays!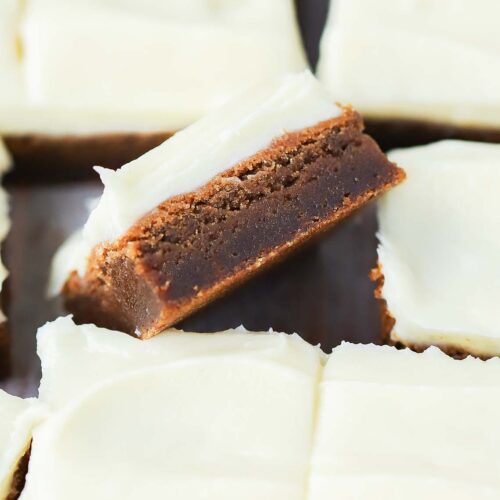 Gingerbread Bars
Christmas is knocking at the front door, and if you're needing an extra easy and extra delicious treat, these Gingerbread Bars are just what you need.
Ingredients
1/2

cup

butter

softened

1/2

cup

granulated sugar

1/2

cup

packed brown sugar

1

whole

egg

3/4

teaspoon

vanilla extract

1/2

teaspoon

cinnamon

1/8

teaspoon

cloves

1/8

teaspoon

nutmeg

1/2

teaspoon

ground ginger

1/2

teaspoon

salt

2

cups

all purpose flour

1

teaspoon

baking soda
Frosting –
4

oz

cream cheese, softened

1/4

cup

butter, softened

1

cup

powdered sugar

1/2

tsp

vanilla extract
Instructions
Preheat oven to 325 degrees.

Line 12.25" x 8.75" x 1" jelly roll pan with foil or parchment paper and spray with nonstick cooking spray. Set aside.

In a large bowl, cream butter and sugars together until light and fluffy. Stir in egg, vanilla and molasses. Whip 1-2 minutes or until it turns a light brown color. Stir in remaining ingredients and mix until dry ingredients are just combined. Press into prepared pan and bake 20-22 minutes or until edges are barely starting to brown. Cool completely.

For the frosting- whip all ingredients together until smooth. Spread overtop bars and cut into squares. Serve immediately or store in air tight container.
Notes
*If you don't have a small jellyroll pan, you can use a glass 8×8 dish, just add 2-3 extra minutes to the baking time. The bars will be slightly thicker.
Nutrition
Calories:
238
kcal
Carbohydrates:
33
g
Protein:
2
g
Fat:
11
g
Saturated Fat:
4
g
Polyunsaturated Fat:
2
g
Monounsaturated Fat:
4
g
Trans Fat:
1
g
Cholesterol:
16
mg
Sodium:
259
mg
Potassium:
42
mg
Fiber:
1
g
Sugar:
21
g
Vitamin A:
438
IU
Vitamin C:
1
mg
Calcium:
19
mg
Iron:
1
mg