Made with only 4 ingredients this Buttercream Frosting Recipe is out of this world. Double or triple it, pipe it, spread it, or eat it with a spoon. SO GOOD!
Today, I'm sharing a classic recipe for Buttercream Frosting. Made with only four basic ingredients, this is the best of the best! Sweet, buttery and the perfect addition to any kind of cake.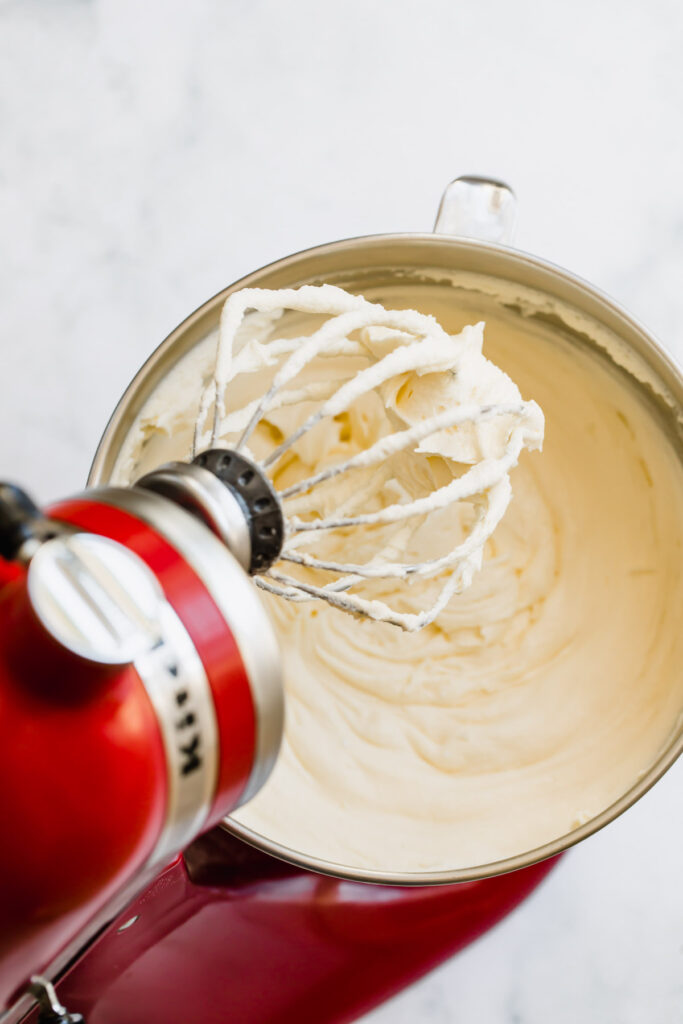 Buttercream Frosting Ingredients
There are only four simple ingredients used in buttercream frosting. Chances are you already have them in your pantry! Each one relies on the other for flavor and structure so be mindful of measurements. All the specific increments and instructions are listed in the recipe card below! Here's what you need:
Butter – most frosting recipes are primarily made of unsalted butter. This is for flavor and for structure. Make sure that your butter is softened before starting this recipe!
Vanilla Extract – use real vanilla extract here for the best flavor.
Milk – this helps bind all of the ingredients together and helps loosen things up.
Powdered Sugar – this is used to sweeten and give the frosting structure.
Flavored Buttercream Frosting
One of the best parts of a simple vanilla flavored buttercream frosting is that you have the option to customize the flavor! Here are a couple different ways you can do this:
Extracts. Simply replace the vanilla extract with an extract that suits your needs. For example, chocolate cake with peppermint frosting. There are also extracts like coconut, lemon, and almond that would be tasty.
Fruit. If you'd rather flavor buttercream more naturally, consider using fruit. Zest and squeeze any sort of citrus, puree some berries, or use freezer dried fruit (in dust form)!
Chocolate. Chocolate buttercream frosting is its own thing. Simply add cocoa powder to the mix or melted chocolate.
Syrups. Make your own simple syrups, caramel sauce or buy some store-bought kinds.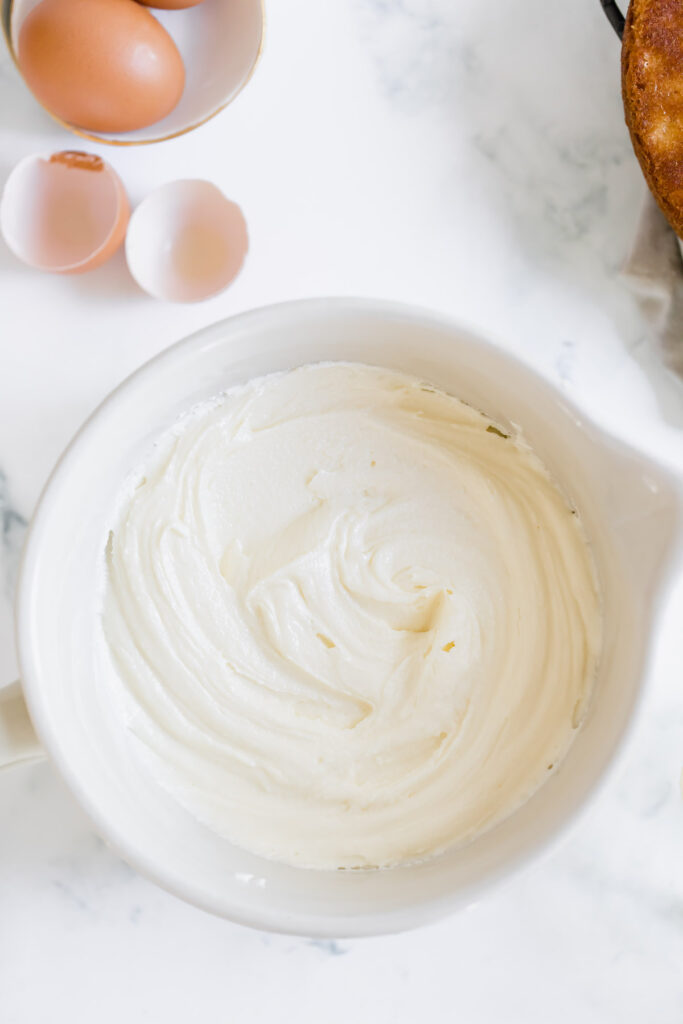 How to Color Buttercream Frosting
Some flavoring techniques will also dye the buttercream frosting. But if you are looking to use food coloring I've got you covered.
Start out by making the buttercream recipe as directed. Then add in small amounts of food dye and mix until the desired color is reached.
I would recommend using gel food dye because the color is concentrated. All this means is that it won't mess with the thickness of the frosting too much. You can find this kind of dye on Amazon or at a specialty baking store.
Tips and Tricks
Softened Butter: the first and most important tip is to make sure your butter is softened. Plan ahead and pull out the amount you need several hours in advance. If you forgot to, don't worry, microwave the butter for 5 seconds flipping it on each of its sides between the 5-second intervals until softened.
Offset Spatulas: these are great for frosting a larger tiered cake. Here are the ones I love and use often!
Piping Bags: what is better than regular ol' piping bags? Plastic disposable piping bags. Use with or without specialty tips. Some of my favorites are this large, open star tip and this wide, round tip.
Common Utensils: never underestimate the usefulness of a butter knife or the back of a spoon when decorating.
How Much Will This Recipe Frost: I talk more about this down below but just remember that these are just guidelines. Different people like a lot of frosting and some like a little. Also, consider the tools you use and how much frosting each one uses. That's all!
How to Make Buttercream Frosting
Making buttercream frosting is a little more involved than something like cream cheese frosting, but don't worry, it's still a super easy recipe. For more information see the recipe card down below.
In a stand mixer measure out the butter, powdered sugar and vanilla. Start to combine.
While the mixer is on, stream in a tablespoon of milk at a time until it starts to come together and look creamy.
Scrape the sides and mix again, if it still isn't coming together add another tablespoon of milk. You'll know it's ready when it's thick enough to hold its shape but light enough that a rubber spatula can run through it easily.
Use as desired!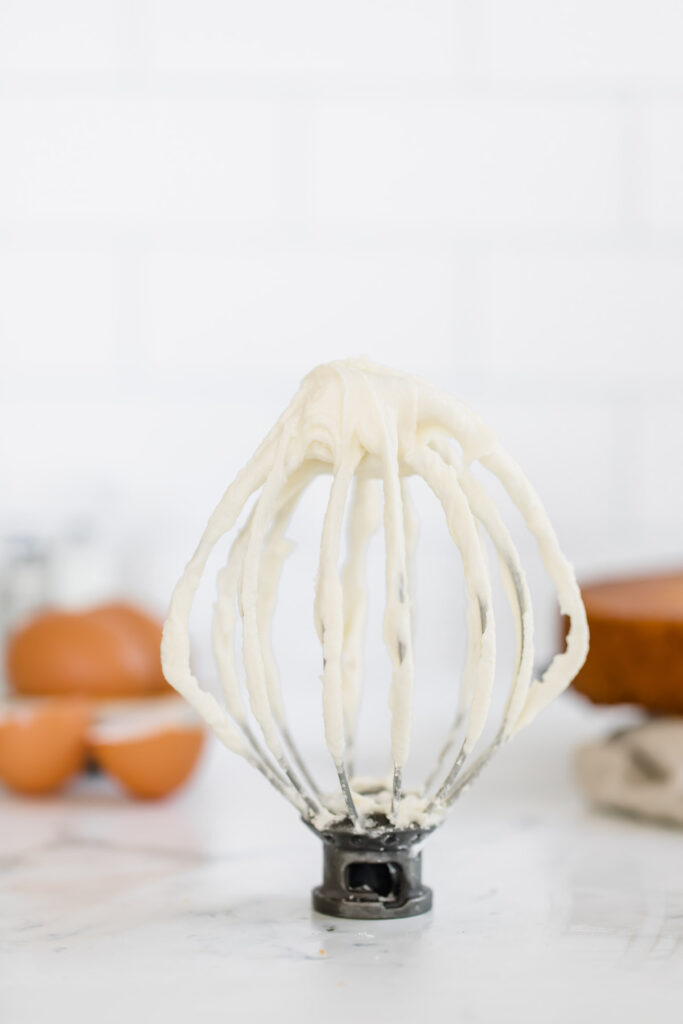 How much will this recipe frost?
Frost cupcakes, tiered cakes, sheet cakes, cookie sandwiches, on top of brownies or just eat it by the spoonful! One buttercream frosting recipe will frost:
A two-layer 8-inch round cake
A 9×13 cake
12 cupcakes using a piping bag OR
24 cupcakes using a butter knife
How to Store
The easiest way to spread buttercream frosting is at room temperature! If you have frosted a cake that you are going to consume within 24 hours then there is no need to refrigerate it.
When storing buttercream by itself refrigerate covered for up to 5 days! When ready to use bring it to room temperature. Mix it briefly if it is too stiff.
Freezing Instructions
To freeze buttercream frosting simply transfer it into a freezer-safe, airtight container, and freeze for up to 3 months! Thaw by bringing the frosting up to room temperature. Stir or whip again to work some air back into it and then use it as desired!
Recipes to Frost with Buttercream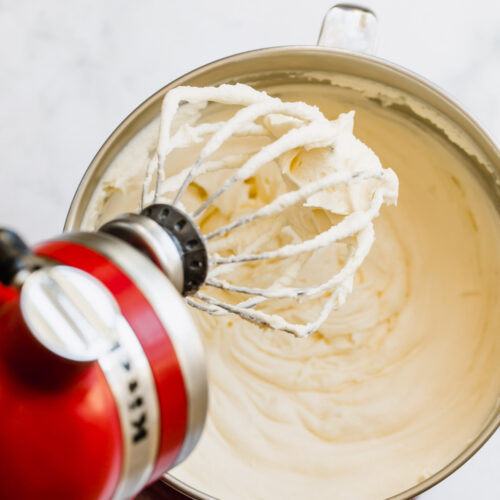 Buttercream Frosting Recipe
Made with only 4 ingredients this Buttercream Frosting Recipe is out of this world. Double or triple it, pipe it, spread it or eat it with a spoon. SO GOOD!
Ingredients
1/2

cup

butter

softened

2

teaspoons

real vanilla extract

1

pound

powdered sugar

2

tablespoons

milk

or more as needed
Instructions
In a large bowl or stand mixer, measure out the butter, vanilla extract, and powdered sugar. Start to stir to combine.

With the mixer on, stream in one tablespoon of milk at a time until the frosting starts to come together and it looks creamy.

Scrape the sides of the bowl and mix again, if it still hasn't come together by now, continue to add milk, one tablespoon at a time, until the desired consistency is reached. The frosting should be thick enough to hold its shape but light enough that you can move a rubber spatula through it with ease.
Nutrition
Calories:
157
kcal
Carbohydrates:
38
g
Protein:
1
g
Fat:
1
g
Saturated Fat:
1
g
Cholesterol:
1
mg
Sodium:
12
mg
Potassium:
17
mg
Sugar:
38
g
Vitamin A:
17
IU
Calcium:
14
mg
Iron:
1
mg