This 4-ingredient Skillet S'mores Dip is a cinch to throw together for an easy, shareable dessert that tastes just like campfire s'mores without being in the great outdoors!
The lure of gooey, toasted marshmallows and melted chocolate with graham cracker crunch always gets us excited, no matter what the form. Some of our other favorite s'mores-inspired desserts are S'mores Bars and S'mores Cupcakes.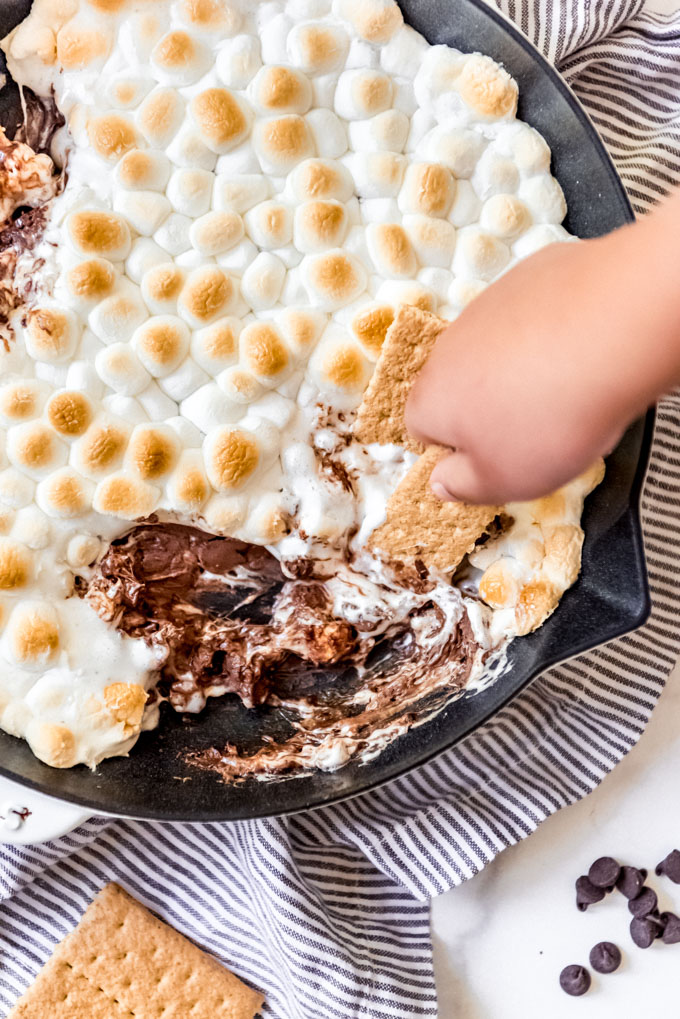 Skillet S'mores Dip
If summer had a food mascot, there are a few front runners, but s'mores would definitely be on the shortlist. They are simple to make, with just three ingredients, and most of us have memories of enjoying these with friends and family around campfires.
But as much as I love classic s'mores, this s'mores dessert dip recipe may have just taken it's place as my favorite way to enjoy the classic taste of s'mores without ending up smelling of woodsmoke the rest of the night.
Making it in a cast iron skillet adds that rustic nod to the outdoors, but it also retains heat well, keeping the bottom chocolate layer of this s'mores dip molten longer. Not that it lasts long when you serve it up to your family or friends and let everybody dig in with graham cracker sticks.
It's like a cross between classic s'mores and chocolate fondue. Especially if you think outside the graham cracker square and serve this with other dipping possibilities like pretzels or sliced fruit.
Just remember, no double dipping. 😉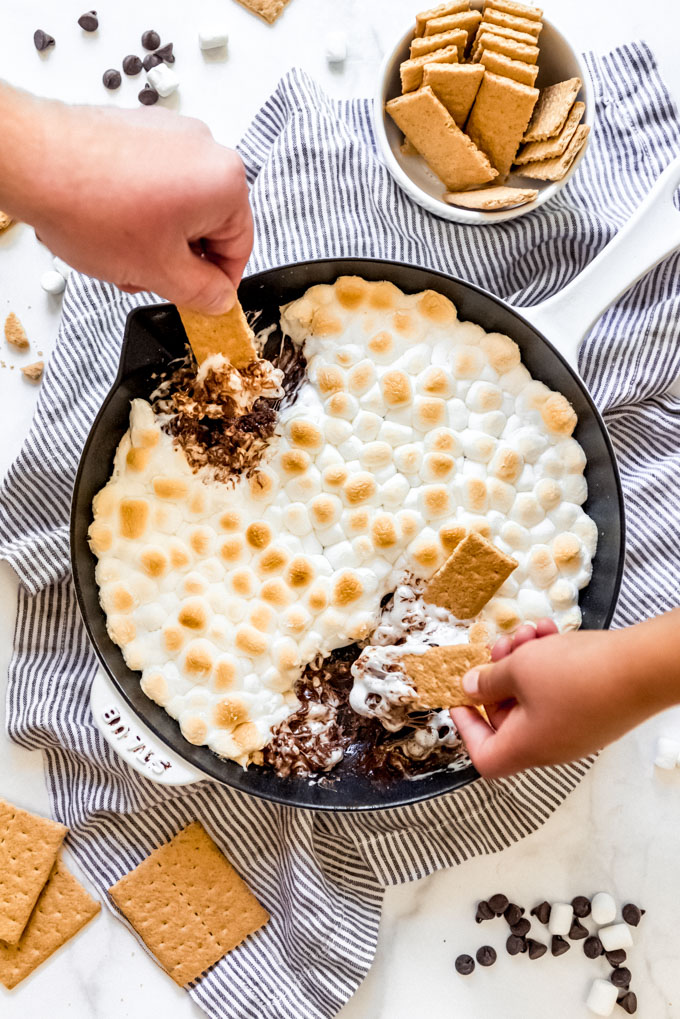 How to make s'mores dip
Start by preheating the oven to 450 degrees F. You want the oven nice and toasty so that the chocolate and marshmallows melt evenly. Place your skillet in the oven to heat up for 5 minutes.
Once the skillet is hot, add a pat of butter and swirl it around the pan to coat the bottom and sides. This makes cleanup a lot simpler in the end.
Evenly spread a layer of chocolate chips on the bottom. Really any kind of chocolate would work in this dip, but I use a mix of mostly milk chocolate chips, with a few semisweet chips to balance things out a bit. I don't always have Hershey chocolate bars on hand, but you could even use 6 of those instead of the chocolate chips if you wanted.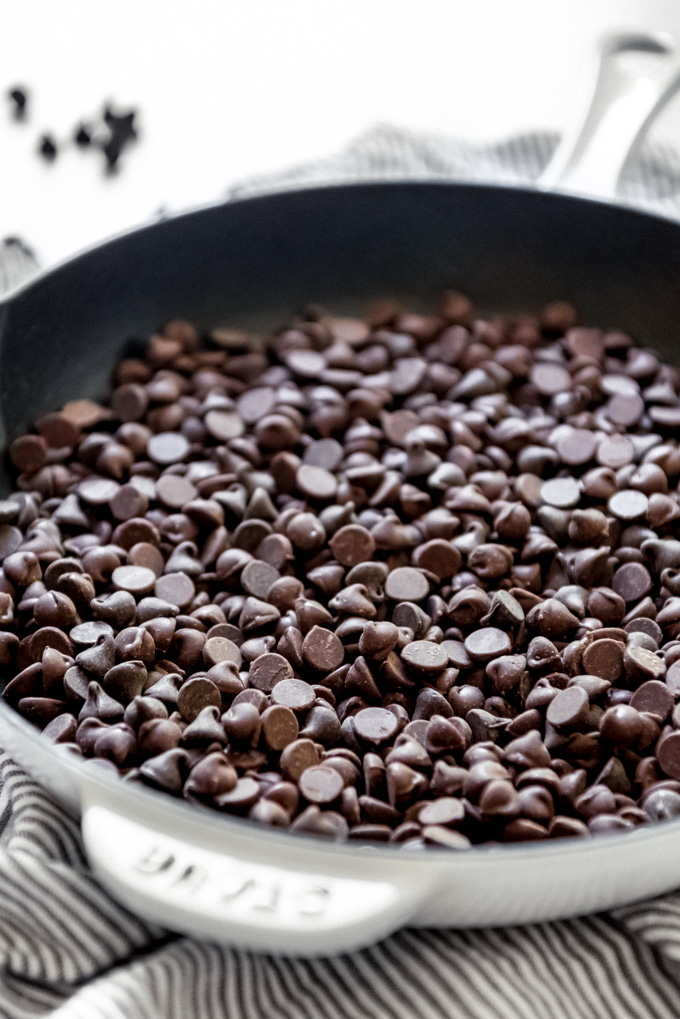 Top with marshmallows over the top of the chocolate chips. Since it's completely impractical to roast mini marshmallows over a fire, s'mores are usually made with large marshmallows. And they could be used here too for visual impact. But I actually prefer mini marshmallows for this s'mores dip because it's easier to scoop them out than the big ones when having s'mores in dip form.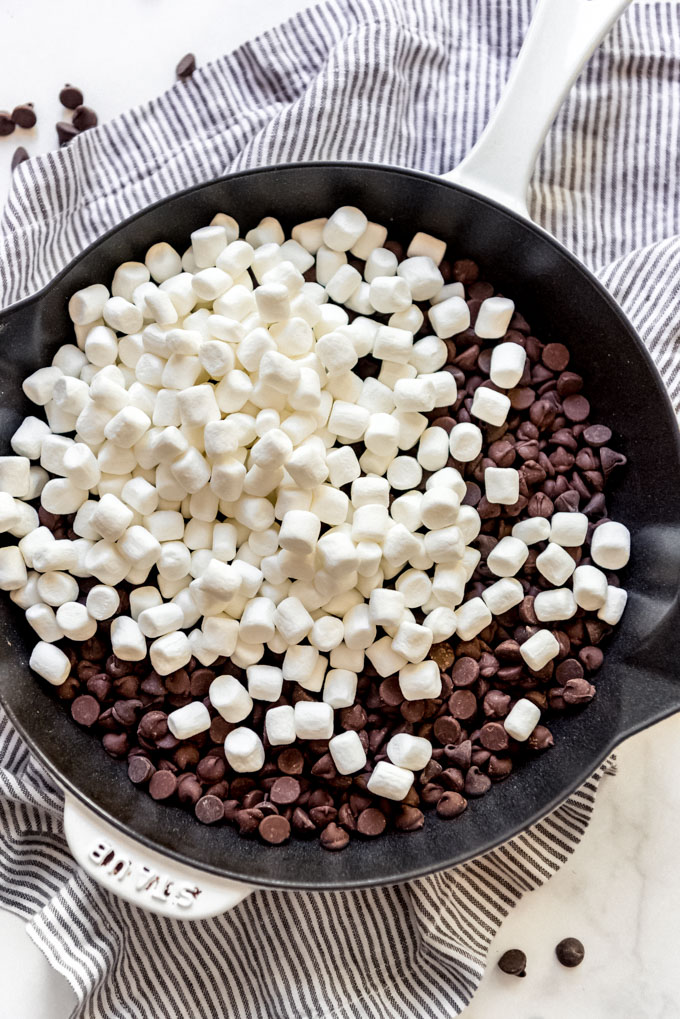 Place the skillet in the oven and bake for 5 to 7 minutes, until the marshmallows are golden brown and all toasty on top and the chocolate chips are melted beneath. Keep a close eye on the marshmallows because they can go from pale blonde to scorched in a matter of seconds in some ovens. The chocolate chips may still hold onto their shape since they are made to do that, but once you start digging in with graham crackers to scoop them up, you will see that they turn gooey and soft right away.
Set a trivet on the table and put out a plate of things to dip with and let the melee commence! Just warn little ones to be careful of the edges of the hot pan, or scoop out some of the dip into a bowl so they don't run the risk of burning little fingers.
What to eat with s'mores dip
While graham crackers are the obvious choice since they complete the trio of s'mores ingredients, try one or more of these other dipping options for a new and delightful s'mores experience!
Pretzel twists: This is my favorite alternate for graham crackers because I love the salty sweet combination of pretzels and chocolate.
Nilla wafers: These sweet, sturdy cookies hold up well to the s'mores dip.
Shortbread cookies: Another sturdy cookie, buttery shortbread is a great canvas for the flavors of toasted marshmallow and milk chocolate, and a little more refined than graham crackers.
Sliced apples: For a slightly healthier alternative, go with crunchy apples. They hold up well to the sticky marshmallows and melted chocolate and it's a great flavor contrast if you go with a tart apple like a granny smith.
Strawberries: Because what is better than a chocolate covered strawberry? Nothing, really, except maybe one with toasted marshmallow as well.
Oreos: This is a little much for my taste, but if you are a major chocolate person then I say go for it!
Tips for s'mores dip
Be sure to bake the s'mores dip, not broil it. Unless you are an anarchist who likes to burn your marshmallows on the outside while they are still firm and cold on the inside. Baking the s'mores dip gives the chocolate a chance to melt, while also toasting the marshmallows slowly so that they make a molten layer of stretchy marshmallow.
The chocolate will continue to melt after the dip is pulled out of the oven thanks to the residual heat of the pan. But if you still have hard chocolate chips after 5 minutes, you can stick the pan back in the oven to reheat for another minute or two.
If you have don't have a cast iron skillet, you can use a pie plate instead and it will work almost just a well.
This dessert doesn't really keep, so I recommend eating it up in one go.
For a fun presentation, consider getting mini skillets so you can make personal servings of s'mores dip for guests.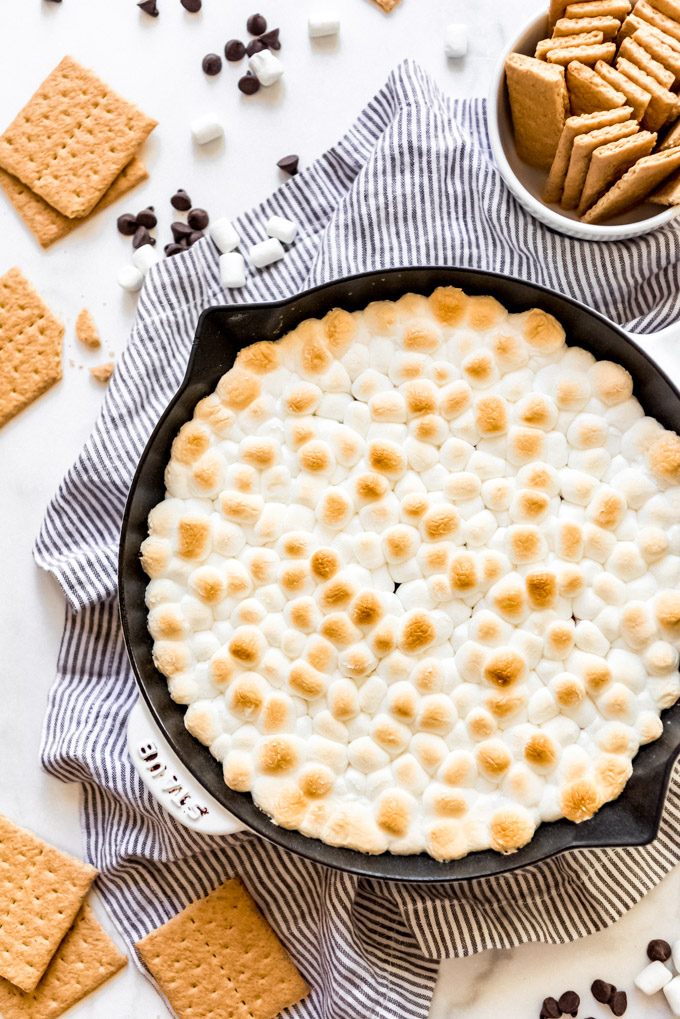 More s'mores recipes to try!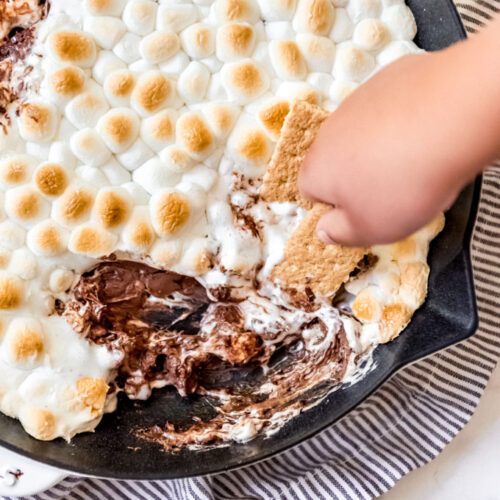 S'mores Dip
This 4-ingredient Skillet S'mores Dip is a cinch to throw together for an easy, shareable dessert that tastes just like campfire s'mores without being in the great outdoors!
Ingredients
1

tablespoon

salted butter

2 1/2

cups

chocolate chips

milk, semisweet, or a combination

16

oz

miniature marshmallows

1 bag

graham crackers

for serving
Instructions
Preheat oven to 450 degrees F. Set an 8- to 10-inch cast iron skillet inside for 5 minutes to heat up.

Melt the butter in the hot pan, spreading to coat the bottom and sides. Pour in the chocolate chips, then top with an even layer or marshmallows.

Bake for 5 to 7 minutes, just until the marshmallows are toasted on top. Serve immediately with graham crackers for dipping.
Notes
This could also be served with pretzels, Oreos, fruit, or shortbread cookies for dipping.
Nutrition
Calories:
13
kcal
Carbohydrates:
1
g
Protein:
1
g
Fat:
1
g
Saturated Fat:
1
g
Cholesterol:
4
mg
Sodium:
13
mg
Sugar:
1
g
Vitamin A:
44
IU